LUBBOCK, Texas — When email inboxes dinged in and around Lubbock last Tuesday afternoon, recipients were surprised by the new message: an invitation to a private, first-ever agriculture round table with U.S. Sen. Ted Cruz on August 11.
Earlier that morning, Breitbart Texas published a story entitled Bad Trade Deals and Worse Actors (Part 3 of a Farmer's Plight series), which outlined the record of Texas' junior senator during cotton's three-year slide.
Whether or not Cruz had the event planned prior to July 26 is unclear. Causation or correlation, many were struck by the timing of the invitation.
"It sure seems more than coincidence that we'd be invited hours after that [Breitbart Texas] story," said a source invited to the meeting.
Cotton has a $4 billion annual economic impact within a 100-mile radius of Lubbock. Breitbart Texas previously reported the region could lose 25 percent of its cotton producers if late fall harvest prices are in the range of 65 cents per pound.
Calls for a Farm Bill re-write in 2017 are reaching fever pitch in major agriculture sectors across rural America. Presently federal spending on farm policy is less than half of 1 percent.
Many see Cruz, who will reportedly run for re-election in 2018, as a crucial player behind the scenes for Texas agriculture, which exceeds $100 billion economic impact annually, while rural lands comprise over 80 percent of the state's geography, according to the Texas Department of Agriculture.
"It'll be an interesting visit, that's for sure. [Cruz] has got the opportunity to make up a lot of lost ground. I'm looking forward to it," said another invitee.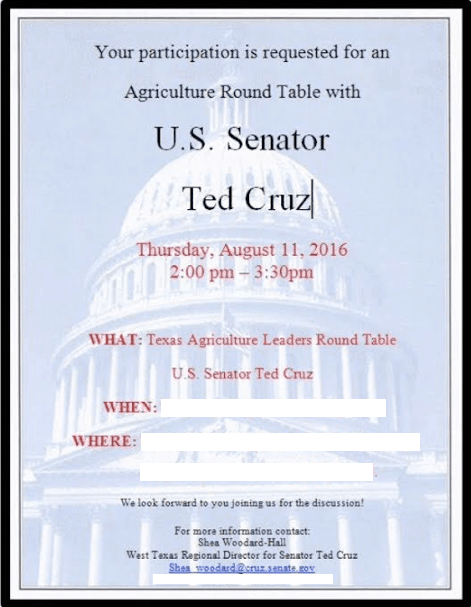 The Farmer's Plight series can be read here: Part 1, Part 2, Part 3 and Part 4. This article has been updated.

Jay Leeson can be heard on West Texas Drive on KRFE AM 580 Lubbock, weekdays from 4:30-6:30pm. He is also founder and editor of MakeWestTexasGreatAgain.com. Follow him on Twitter at @jayleeson.