PIEDRAS NEGRAS, Coahuila — Mexican authorities seized numerous vehicles and tactical gear that were hidden under tarps in a remote rural area south of the border with Texas.
The recent seizure took place near the Mexican town of San Buenaventura, just northeast of Monclova, Coahuila, as part of a joint operation between state and federal authorities, according to information provided by law enforcement sources to Breitbart Texas. Authorities conducted an intelligence-driven operation aimed at disrupting cartel operations in the area and utilized air support from Mexico's federal police.
Using a Blackhawk helicopter, Mexican authorities flew over various dirt roads near the rural community called Constitucion. As authorities flew over one of those roads, they spotted four SUV's hidden with tarps and brush.  The officers in the helicopter directed authorities on the ground to the area where the SUVs were hidden.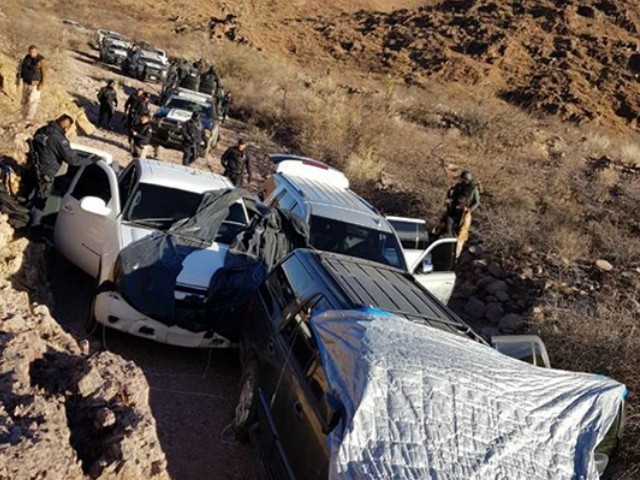 In that area, authorities found four vehicles without any license plates. They also found several rounds of ammunition and numerous sets of body armor, tactical helmets, and other gear. Investigators turned the seized items and vehicles to federal authorities for further investigation.
The area where the discovery was made is just west of the state border with the border state of Nuevo Leon and 200 miles south of the border with Texas.  The states of Coahuila and Nuevo Leon have long been considered prime drug trafficking areas due to their proximity to the Texas border. Both states have a strong presence of various drug cartels including factions of Los Zetas, the Sinaloa Cartel, Cartel Jalisco Nueva Generacion and others.
Editor's Note: Breitbart Texas traveled to the Mexican States of Tamaulipas, Coahuila, and Nuevo León to recruit citizen journalists willing to risk their lives and expose the cartels silencing their communities.  The writers would face certain death at the hands of the various cartels that operate in those areas including the Gulf Cartel and Los Zetas if a pseudonym were not used. Breitbart Texas' Cartel Chronicles are published in both English and in their original Spanish. This article was written by "J.M. Martinez" from Coahuila.