REYNOSA, Tamaulipas – A series of cartel firefights killed two innocent motorists and at least seven gunmen in this border city.
Video obtained by Breitbart News reveals the moment when a team of cartel gunmen used an irrigation canal for cover as they exchanged shots with Tamaulipas state police. The gunmen can be seen popping in and out of cover until they are shot down.
The gunfire started when authorities tried to stop a sand-colored SUV with four cartel men inside. The shooters were wearing body armor and carried rifles as they engaged state authorities in a rolling fight that ended in the Balcones neighborhood. Gunmen drove their SUV into the irrigation canal where they ultimately died.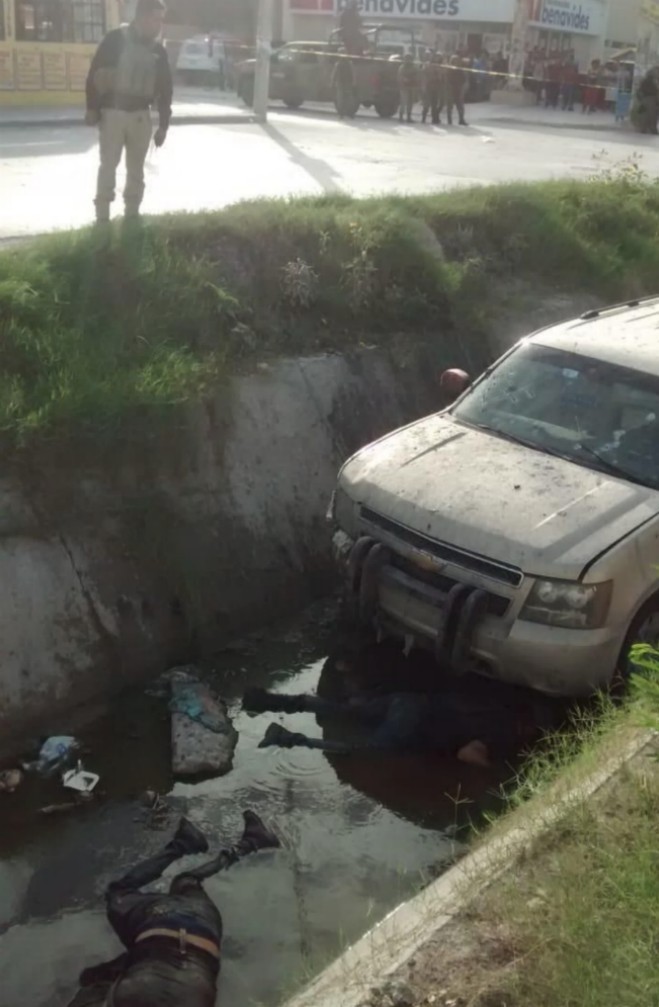 In another skirmish, two rival factions of the Gulf Cartel clashed on the southern side of the city near the Benito Juarez neighborhood. The gunmen killed two innocent motorists caught in the crossfire. Tamaulipas authorities responded to the scene and began fighting with both factions. Authorities killed three gunmen while the rest fled. It is unknown if any other cartel shooters died during the first clash.
The violence in Reynosa is part of an ongoing turf war between two rival factions of the Gulf Cartel which yields regular gun battles, kidnappings, and murders. The escalation in violence comes shortly after the October 19 arrest of Petronilo "Panilo" Moreno Flores, one of the Gulf Cartel bosses fighting for control of Reynosa and with help from the Matamoros factions called "Los Escorpiones" and "Ciclones."
Tamaulipas state authorities are actively hunting for Bartolo "El Primito" Rodarte Castillo, the current leader of the Los Metros faction of the Gulf Cartel. Rodarte Castillo inherited control of the organization that controls Reynosa after several key commanders were arrested or killed.
Editor's Note: Breitbart Texas traveled to the Mexican States of Tamaulipas, Coahuila, and Nuevo León to recruit citizen journalists willing to risk their lives and expose the cartels silencing their communities.  The writers would face certain death at the hands of the various cartels that operate in those areas including the Gulf Cartel and Los Zetas if a pseudonym were not used. Breitbart Texas' Cartel Chronicles are published in both English and in their original Spanish. This article was written by "A.C. Del Angel" from Tamaulipas.