PENSACOLA, Florida — The rain and cold temperatures didn't keep them away from the Pensacola Bay Center Friday night to see President Donald Trump at the Make America Great Again rally, his fourth such rally in Pensacola in the last two years.
Before a near-capacity crowd at the 12,000-seat venue, Trump fulfilled his 2016 pledge to use "Merry Christmas" when appropriate and touted forthcoming tax cuts.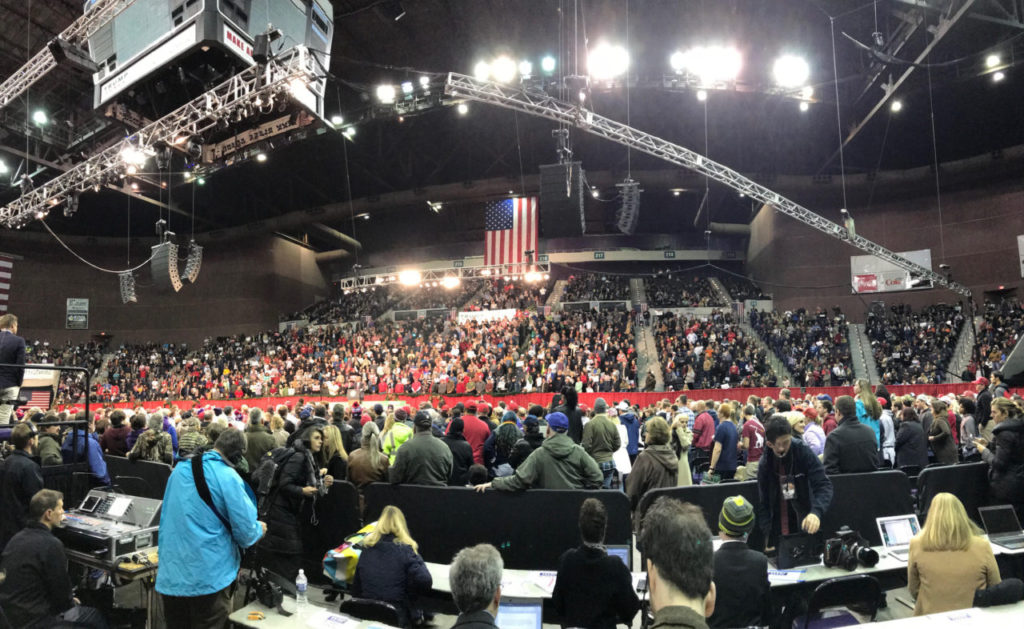 "Well, you remember the campaign?" he said. "I said, let me begin by wishing each and every one of you a very Merry Christmas; right? And I can think of no better Christmas present for the American people than giving you a massive tax cut – that's what's happening.  And your Senate and your House hopefully very shortly will have those approvals – those hands will go up, and you're going to be paying a lot less tax so, congratulations – I hope. I've got a vote, and I think they will. I can't wait to sign that tax cut – great for so many. But great for the middle class – and we are going to put it into law."
After taking a shot at the "fake news media," including ABC and CNN for having to issue corrections, Trump rattled off several other of the economic indicators that have trended in a positive direction since he took office earlier this year.
"Since the election – and they're not going to argue with this – we've created 2.2 million new jobs, factories are coming back to our country," Trump said. "You know, we have factories pouring back into our country. Did you ever think you would hear that? I used to tell you, that's going to happen. You see, now there's consequences when companies close up their factories, move to another country, make a product and sell it right through – they have consequences now."
"And by the way those consequences are getting very steep – and they're going up," he continued. "There's no more of that stuff. There's no more. In November alone – you saw this today – we added 228,000 jobs. I watched these anchors this morning – they were devastated. They said, oh, what's going on? And honestly, we have a long way to go. We're going to do much better than this – and I've been saying it. Including another 33,000 new jobs in manufacturing – wait until you hear that, right?"
Trump referenced gains in consumer confidence, job and GDP growth as well, in addition to touting a more aggressive tack regarding American trade deals.
One of the best responses the president received was during his vow to improve national defense and conditions for the U.S. Armed Forces. Pensacola is home to Pensacola Naval Air Station and adjacent to Eglin Air Force Base, which gives the region a sizeable military presence.
Trump told attendee he was rebuilding military and criticized congressional Democrats for obstructing those efforts.
"My administration is also leading the charge to rebuild our military," he said. "Our military, right? We're supporting our troops and their wonderful military families, including those right here in the cradle of Naval aviation, the home of the legendary Blue Angels, people don't realize that. By the way, can those people fly or what? How about Naval Air Station Pensacola? Good place, right? And it's really time. This isn't a Republican thing or Democratic thing or anything."
"It's time for Democrats in Congress to drop the threats of shutdowns of government and support a clean appropriations bill that fully supports and funds our military," Trump continued. "We can't play games anymore. We can't play games. And don't forget, we make the greatest missiles, the greatest military equipment anywhere in the world. Nobody is close. And what does it also mean? And to me it's secondary in this case, but what does it also mean? Jobs, jobs. But we are building our military stronger and by the time I decide to go off into the wild blue yonder, you're going to have the strongest military this country has ever had by far."
Ever since announcing his intentions to hold the rally in Pensacola, many in the media had suggested the rally was a show of support for embattled Alabama Republican U.S. Senate hopeful Roy Moore given its proximity to the Alabama-Florida state line.
Trump raised questions about Moore's detractors, including a woman that accused Moore of engaging in sexual misconduct decades ago, Beverly Young Nelson, and her lawyer, Gloria Allred. Then he urged the rallygoers from Alabama to cast a ballot for Moore.
"And by the way, just so I can satisfy this gentleman out there," he said. "How many people here are from the great state of Alabama? Well, I have to say this, look, I have to. We have to be fair. So did you see what happened today? You know the yearbook? Did you see that? There was a little mistake made. She started writing things in the yearbook. Oh, what are we going to do? Gloria Allred, anytime you see her you know something's going wrong. We cannot afford — this country, the future of this country, cannot afford to lose a seat in the very, very close United States Senate."
"We can't afford it, folks," Trump continued. "We can't. We can't afford to have a liberal Democrat who is completely controlled by Nancy Pelosi and Chuck Schumer. We can't do it. Can't do it. His name is Jones, and he is their total puppet. And everybody knows it. He will never ever vote for us. We need somebody in that Senate seat who will vote for our make America great again agenda, which involves tough on crime, strong on borders, strong on immigration. We want great people coming into our country. Building the wall. Strengthening our military. Continuing our great fight for our veterans. I love our veterans."
"We — right? We love our veterans," he added. "We want conservative judges like Judge Gorsuch on the Supreme Court. Doing a great job, too. We want people that are going to protect your gun rights, great trade deals instead of the horrible deals. And we want jobs, jobs, jobs. So get out and vote for Roy Moore. Do it. Do it. Do it."
Trump also hit on his pledge to build a border wall, the United States' committment to NATO and relived some of the moments of his successful 2016 presidential election bid before ending the event with his familar close.
"The greatest adventure still lies ahead," he explained. "Never give in, never give up, never back down, and never ever stop dreaming. Because we are Americans and the future belongs to us. The future belongs to all of you. So with American pride swelling in our hearts and American courage stirring in our souls, I say these words tonight, together we will, indeed, make America strong again. We will make America proud again. We will make America wealthy again. We will make America safe again. And put it all together and what do we have? We will make America great again. Thank you. God bless you. God bless America. Thank you, everybody."
Follow Jeff Poor on Twitter @jeff_poor